Join our Contest and Win Rising Cash Prize
Contest open to anyone over the age of 18 with a PayPal Account or a Credit Card. The minimum cash prize is set at $50 for the winner plus a half of the sum amount collected from the contest entering fees!

The final amount of money raised will be updated from the start to the end of the competition at our anniversary website page.

End of the competition is on Friday, June 25th 2021 at 1am London, 8pm New York, 6pm Las Vegas, 10pm Rio de Janeiro, Midnight in Sydney. Draw will be on June 27th 2021 at the end of Museboat Musies Award - SUMMER 2021 Gala Show.
READ CONTEST TERMS
&nbsp&nbsp
BUY TICKETS
&nbsp&nbsp
More tickets, the better chance to win the main prize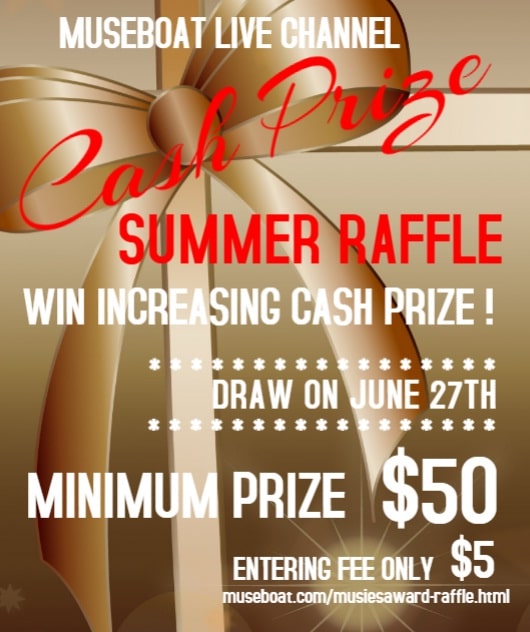 ---

During the competition, we will regularly publish the serial numbers of all participants in the competition assigned to the purchased tickets.

According to the first four letters of the paypal email address, everyone can immediately identify unique ticket numer in the competition, regardless of the quantity purchased.

A summary of the amount collected, including the serial numbers of the competitors, will be published regularly on Raffle Contestants Page
Top