LISTEN & CHAT Shows
Take advantage of the opportunity to meet new artists, listeners and brand representatives in the Chatroom. Get new friends, comments, shares, LIKES and exchange favors with people from all over the world.
All Museboat Live Music Shows begin at 10pm London time, which is 11pm in Berlin, 12pm in Athens, 5pm in New York, 2pm in Las Vegas, 6pm in Rio de Janeiro and 7am Sydney time, unless otherwise specified.

The start of the show will be announced in advance on Facebook




Museboat Music Shows
Music show is about one and half hour long playlist of the best songs on Museboat aired at the Maintime. Shows are produced by Museboat volunteers and Museboat media partners.
Our aim is to let website visitors to listen, find more about and promote music we received for airplay.
Anyone can send the song on demand request on
this website page
or by selecting "Song On Demand" from the website music menu. Song requests are automated to a queue by the hour and date of receipt. We play music requests on Mondays.
The more song requests we receive, the sooner a song will get to the Top 25 music chart. To get to know when your favourite song is going to be on air, click on
Send me info about airplay
checkbox in the form and fill in your email / facebook profile link.
Everyone can also nominate song for our MBMC Top 25 Chart show countdown aired every Wednesday with updates every two weeks. You can nominate song for the chart directly from TJ´s Muse Bridge show playlist or at Song on Demand show page.
---
MBMC Top 25 Chart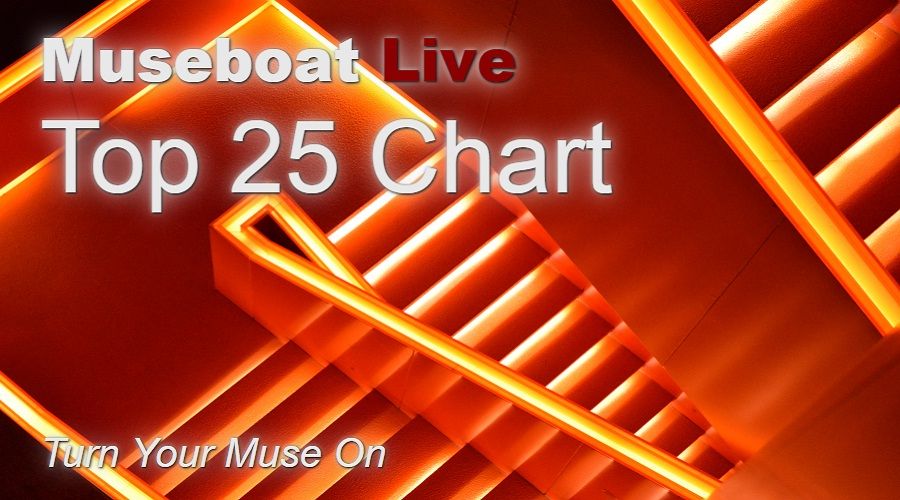 Top 25 Music Chart is the list of 25 the most popular songs on Museboat Live in the past two weeks. Every song needs as many votes as possible to get to the top of our chart.
Chart show is based on votes from Museboat website visitors and on feedback activities (sharing, tweeting, commenting) within Museboat Live channel.
Find your favourite song to VOTE any day or every day as many time as you like.