The Miguel K. Radio and Spotify Tour show

&nbsp &nbsp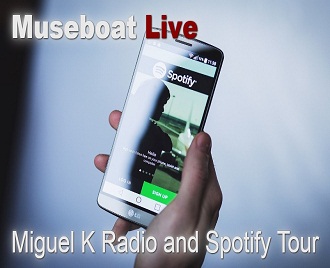 The Miguel K. Radio and Spotify tour on Museboat Live is hosting the Unsigned Talent Tour presented by Miguel K, playing all music genres from all over the world. Be sure to tune in and discover new music..

The start of the show will be announced in advance on Facebook.



Museboat Live Maintime (10pm London, 5pm NEW YORK, 2pm Las Vegas, 7pm Rio de Janeiro, 8am Tokyo, 9am Sydney)

Alex Chase - Vermillion (4:55)
Feelthisinnerg - Jazz.sundays (1:48)
Vlad KHR Cerrone - Supernature (6:50)
Hype - The Beginning (3:22)
Herm D - What Will Normal Be (5:32)

NEW SONGS

Dance Monkey - Tones & I, Welden Remix (2:39)
Dymz - Splash Bros in California (3:15)
Flora Tapes - Won't You (3:23)
Gaviana - Free (4:52)
LiLac - Sihdno (3:51)
Samurai - Ice Cream Tunes (3:19)
Sports car RA INFINITY (2:08)

*We announce new songs just a few hours before the show start.