The Miguel K. Radio and Spotify Tour show

&nbsp &nbsp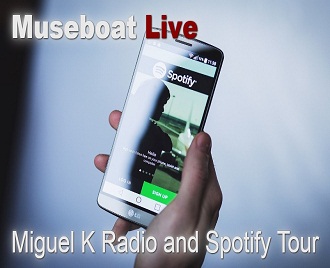 The Miguel K. Radio and Spotify tour on Museboat Live is hosting the Unsigned Talent Tour presented by Miguel K, playing all music genres from all over the world. Be sure to tune in and discover new music..

The start of the show will be announced in advance on Facebook.


Budees - Closer (3:36)
Ceo Nuke - SEXO (3:51)
Sycamore Sound-Immersion (2:03)
The Way It Goes - ENAREM (2:23)
We On It - prod By Taylor Supreme (3:46)



---

Do you want to get more airplays and video views? Submit songs for Indie A

®

music competition.
Indie A

®

is the Music Talent Contest for independent artists with the possibility of winning the Main Prize in Ca$h.
Artists have a great opportunity to show their talent and fight for top positions in the brand new competition on Museboat Live Channel.

If you are interested in more information about the show, please contact us.