Museboat Live - Instore Music Player
Instore music player is the best solution for your brand to grow your business
with high-quality music. It is also great and easy way how to get fantastic music
for events, fashion shows, private party or new product release.

With no commercials, you can satisfy your event customers or party attendants
with 24/7 music under your own choice.

We save you money by providing you with royalty-free Instore Music Players in following music channels:

POP CHANNEL

RnB / Soul / Easy listening / folk / Pop-rock / Teen Pop / Singer-songwriter
(suitable for shops, fashion shows, beauty studios, caffe shops, etc.)

ROCK CHANNEL

Hard Rock / Metal / Rock n Roll / Blues / Prog Industrial
(suitable for bars, pubs, clubs, etc.)

COUNTRY & FOLK CHANNEL

(suitable for pubs, diner restaurants, exhibitions, fairs, etc.)

ALTERNATIVE CHANNEL

(suitable for art galleries, exhibitions, art shops, etc.)

REGGAE CHANNEL

(suitable for beach bars, youth centers, exhibitions, art shops, etc.)

MULTIGENRE CHANNEL

(when listening in your office or at home)

Choose music channel you preffer for you and your customers and then copy and paste specific player embed code on your website. You can change (or add) the music category anytime you like. Our long-term aim is to bring more unique instore music players in the future (HipHop / Rap / Punk / Industrial).

By placing our instore music player badge at your website you not only support fantastic artists but in the near future, you will even be able to earn some small money from commercials in our Revenue Sharing Programe. This way you will be able to pay your yearly website fees at the very least ;-)



We also offer all conscious brands a donationware solution which will cost only a little bit more then the cheapest website hosting with advanced features. You can inquire about instore music program now and we will send you our proposal in return.
Where words fail, music speaks.

Hans Christian Andersen
Instore Music Player Channels
Instore Music Player Details


To run your free instore music player at your place you will need just computer with speakers and an access to the Internet. And the electricity, of course ;-)

Every participant will get up to 30 seconds long audio infospot promoting business or personal activities on the main Museboat Live channel for free. We do the job for you under your instructions (information provided by you about the content of the announcement).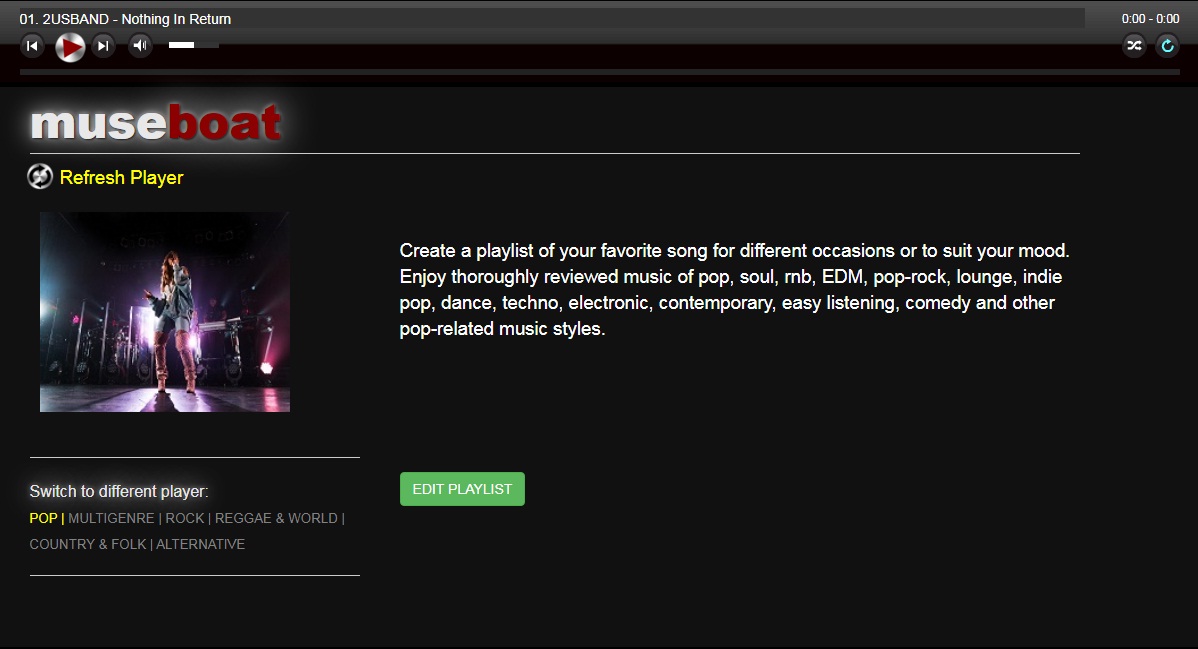 Instore music audio player is equipped with the following controls:


- adjustable playlist under the specific needs
&nbsp (music theme suitable for shop athmosphere)
- random playlist setting (shuffle)


- deleting songs from playlist
- replaying any song from playlist
- playing nex/previous song
- mute / move forward / refresh player functions
- search for song and save playlist options are coming soon

You need not to buy any hardware or appliances to run your playlist from any place and you can even use our online recording tool to record your own audio announcements.


Using Museboat Live Instore Music Player is completely free of any charges.

SUBMIT YOUR BRAND
GET INSTORE MUSIC PLAYER FOR FREE




Reciprocal links


If you do not want to submit your brand or to become exclusive listener on Museboat Live from any reason, you can still get your Exclusive Audio Player

Place any of the following embed codes to your website, blog or shopping website
and we will send you private zone access to your personal music player.
Player website environment is super easy and you have control over all songs
in your playlist.

If you have your microphone connected to your computer, you can interrupt the music stream at any time to make announcements for your customers.






No website or blog? No problem!

You can get instore music player alternative as an exclusive listener just by giving
5 LIKES to fantastic artists on Museboat Live. Get your exclusive music player now.



We also accept pre-release applications for joining our Revenue Sharing Program.
To join the program, you can go to pre-registration form and register as a Instore music player partner.







Instore Music Player FaQ

Have a shop, coffee bar, or an office with access to the Internet?
Read our instore music player FaQ to get free suitable instore music player
for your workers, customers or for yourself.