11/07/2022 / TEXT CREDITS: DELPHI RAVENS, Museboat; PHOTO CREDITS: DELPHI RAVENS
DELPHI RAVENS interview for Museboat Live Channel on Sunday, November 6th, 2022 in TJ´s Muse Bridge show with TaunJua aka TJ
The Delphi Ravens are an alternative rock fusion band combining several musical styles. The Ravens were founded in late 2019 by bassist and songwriter Papa B.™ The band comes from the Pacific Northwest with its rich history of breakthrough music. Vocalist Kira delivers her dynamic vocals and co-writes many of the songs. The Band says, "We aren't vanilla or chocolate, but a blend of unique musical flavors!" ​

In 2022 the band recorded and released 5 new tracks - gained 25000 followers, was named Artist of the Month in July by MTV Rock, won 3 songwriting awards - and is ranked the number one Alternative Rock band in the Pacific Northwest and Top 50 in the USA by ReverbNation. ​


Success is based on persistence, knowledge, and learning from your mistakes.

PapaB
DELPHI RAVENS's music was and is played by many Radio Stations including Museboat Live channel. Despite being busy with a number of music projects, PapaB agreed to answer a few questions.
Taunjua: Hello PapaB and welcome to Museboat Live channel!
PapaB Hi TJ and all the great fans of Museboat. Honored and humbled to be on today, thank you very much for having me.

Taunjua: You have a very unique background that I want to ask you about. Can you tell me a little about when you started playing? Is it true you were a CEO, best selling author, and keynote speaker before you got into music?
PapaB Yes, my journey has been pretty unique I think. I never played an instrument of any kind until I picked up the bass about 7 to 8 years ago. I was a senior business exec specializing in high growth and turnaround companies and then an entrepreneur. I co-authored 5 books (one a bestseller) and did keynote speeches to companies like Samsung International. I wanted to play the bass because it just felt right. I found a great teacher and played every day - still do. My goal was to be playing in a band in less than 2 years and I made it. Then I started writing lyrics while studying music theory. I wrote my first complete song just about 3 years ago, Hardest Goodbye, while working on forming my first band, Delphi Ravens.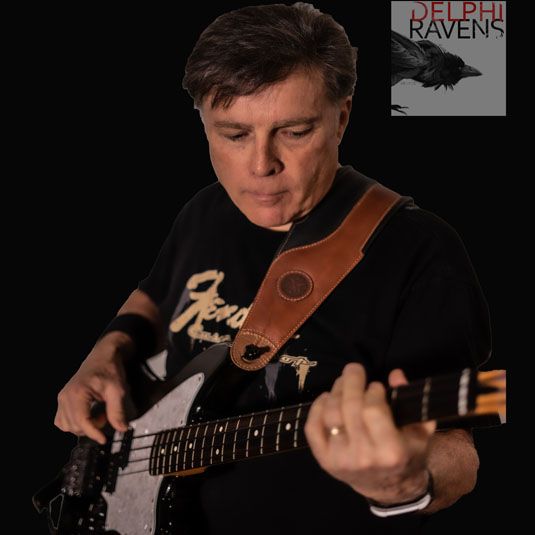 Taunjua: What drove you to start playing?
PapaB I always loved music but was not a singer and had this crazy thought I needed to be one. But when I quit the corporate world I ventured into the creative arts and wrote those books I mentioned, and one day I just decided I wanted to make music my 'last career'… to the surprise of everybody I knew. I really can't explain it, I just knew I wanted to do it. And, having people say "you're too old to start that" and similar comments only made me want to do it more. I have always been highly driven by challenges and overcoming obstacles. When someone says 'can't' to me then I am likely to do it. I mean that's how I ended up feeding sharks in the open ocean with no cage, what a rush that was!
Taunjua: What is the creative process for you and the band, and what inspires you to write your music?
PapaB Before I answer that I have to say I am a bit OCD which can drive people crazy. A quick example, shortly after I met my wife she got out of bed one morning and when she came back I had already remade it. She was planning on sleeping some more, so…. I have since been retrained.

Musically, Kira and I write all the songs and we definitely have a process that works for us. We both start writing independently and then get together to review what we have. Sometimes we start with lyrics and other times with the music…but lyrics are the usual starting point. We both write lyrics. I am always writing lyrics. I have over 50 song lyrics I have done nothing with so far. But I will select the song key and write chord progressions and bassline and she will create the melody. We will create what we think works and then I write it all down on a big flipchart. At practice, the band starts playing it and we work out any adjustments, fills, etc. until we are happy with the song. We rarely just jam as I find it takes up a lot of time until you get something you like.

I find life experiences and those of others are some of the most inspirational for songwriting. Sometimes a cause will be too. For example, Justify is about animal cruelty and one of my personal causes. Most of our songs come from experiences we have had. But I listen to many different musical styles and genres and find some amazing ideas from those. Kira recently said "you have to listen to Wolf Totem by the Hu" (not the Who from the past but the Mongolian metal band). It's great stuff and I got ideas listening to it!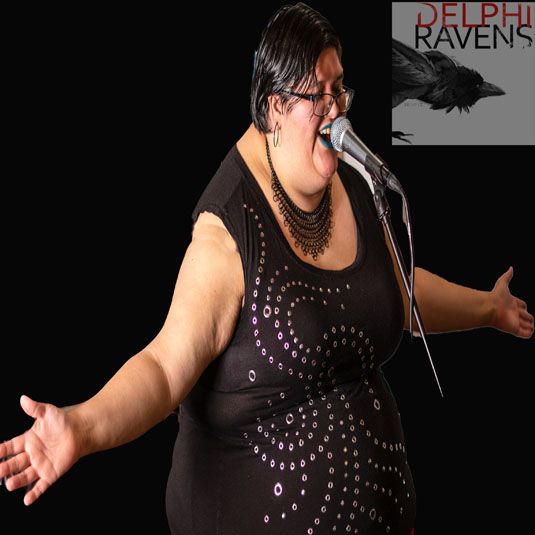 Taunjua: We are a radio station supporting independent artists. Do you have any valuable advice to up and coming artists to get their music to the world?
PapaB I think it goes without saying that you have to focus on your music first, without quality music you can't get anywhere. You have to have a really good product to sell anything and music is no different. But, the other half is you need to learn the business you are in. Most artists are pretty poor at understanding and working the business side of music. You have to know how to market and how to make connections. If you are indie you are on your own.

And don't be an ass. Treat people with respect and help others first and it will come back around to you. No one wants to work with big egos and 'know it all' attitudes in any venture.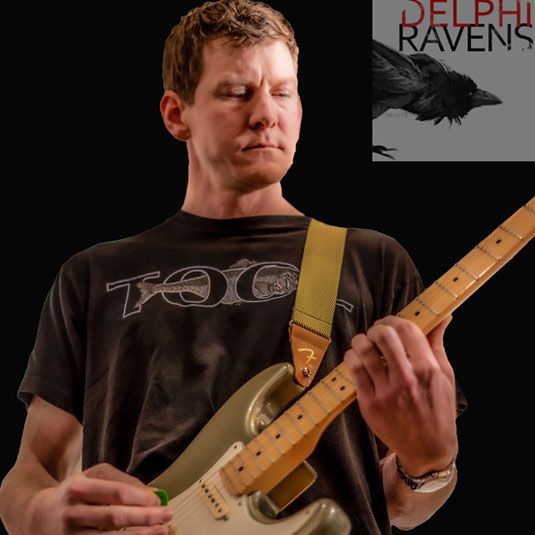 Delphi Ravens hit big milestones in 2022: 50,000 streams, 70 radio stations playing their music, 5 Top 10 or Top 25 listings, 8 original songs recorded, and 3 songwriting awards.

Delphi Ravens
Taunjua: In your experiences, what works and what doesn´t when it comes to music production?
PapaB Once you have some music you feel is good quality, then start by recording professionally. Always interview producers, audio engineers, potential band members, or anyone you are going to work with. Visit the recording studios. It's your career so be in control and work with skilled people you can get along with. I personally look for people that are better than me in everything I do, I always have. Surround yourself with and connect with great people. It has worked for me more than I can say. Great people will make you look good and you will learn a lot and improve too.

Most people don't have their own in-home studio or the skills to do quality production. If you don't have, or can't afford a producer, then at least get an audio engineer that knows music. Ask for and be open to feedback and ideas. You will have to sort out which are valuable and which are not but you can learn to do this. Get input from your band members and others in the business and even critics.

When we play live we actually invite people who know music to come, listen and watch, and provide honest feedback. I have found that your friends and family will almost always say you sound great. Sometimes the feedback can be a real eye-opener. You can miss the most obvious things that someone who is impartial sees and hears. I believe improvement is a continuous process and it should never end.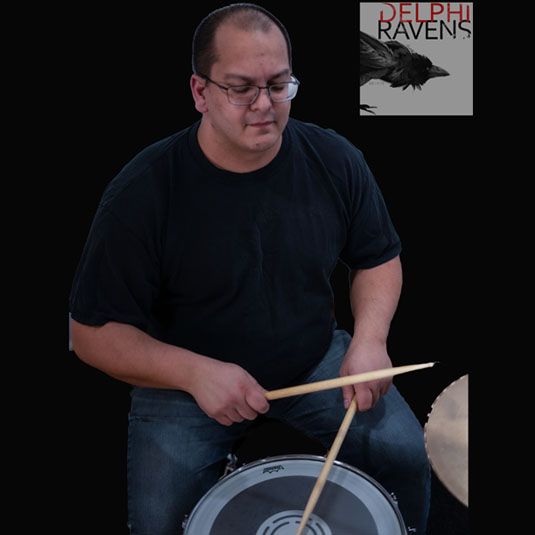 Taunjua: Please tell us the funniest story from your music career.
PapaB Okay, fair warning, this could bother some people. So, during a break at a live gig, a band member used the restroom. Not unusual, right? When back on stage he realized after a bunch of hoots and hollers and gasps that he left his zipper down. Problem was he went commando that day. And the view was not one that anyone expected! He heard about it for months and he shall remain anonymous. Taunjua: What have you been doing during the pandemic with regards to music?

PapaB I formed the band in the year prior to the pandemic but didn't get everyone put together until right before it blew up. So we had only practiced a little, really just getting to know each other. We had planned to write some original songs but decided we would focus full time on it since we could not play gigs anyway. We've been writing and recording the last 2 years. We just started playing gigs in August of 2022. But we continue to work on new songs even when playing out.

I usually have 4-5 songs in progress and Kira has 1-2 as well. So we have a lot to work on.


It's not what you know, it's not what you know you don't know, it's what you don't know you don't know. That's what gets you. Always seek what you don't know you don't know.

PapaB
Taunjua: Can you tell us something more about band members Kira, Piero, Aiden and Brandon? How did you get together?
PapaB Well I sought out a vocalist first because good ones are so hard to find. So Kira was the first real member of the band to join. Piero and I had played together and he was in another band and wanted to get back together and play lead for us which was great. Before Piero came back I had auditioned a bunch of drummers and finally found the right person in Brandon. He had toured before and been in several successful bands but, mostly, was a great guy. I realized later how really great a player he is. He's also a good guitarist. He's pretty quiet but people listen when he speaks up. Aiden was the last piece of the puzzle as I wanted 2 guitarists and he was a real find. His timing is as good as any drummer and he is our rhythm guitarist.
Taunjua: What song that you have written, have you found the hardest to write?
PapaB That's always a tough question. Sometimes it's the one you are working on right now. But, I would say Hardest Goodbye because it's about losing someone you have loved for a long time. I wrote it right before the pandemic. It's very personal to me. It is about my mother losing my dad. They were high school sweethearts and had been together more than 50 years, and still loved each other very much. Her struggle with the loss was a long and very difficult one. Her strength was amazing and with family support she got through it. The song is really about the struggle and emotions that come with a big personal loss.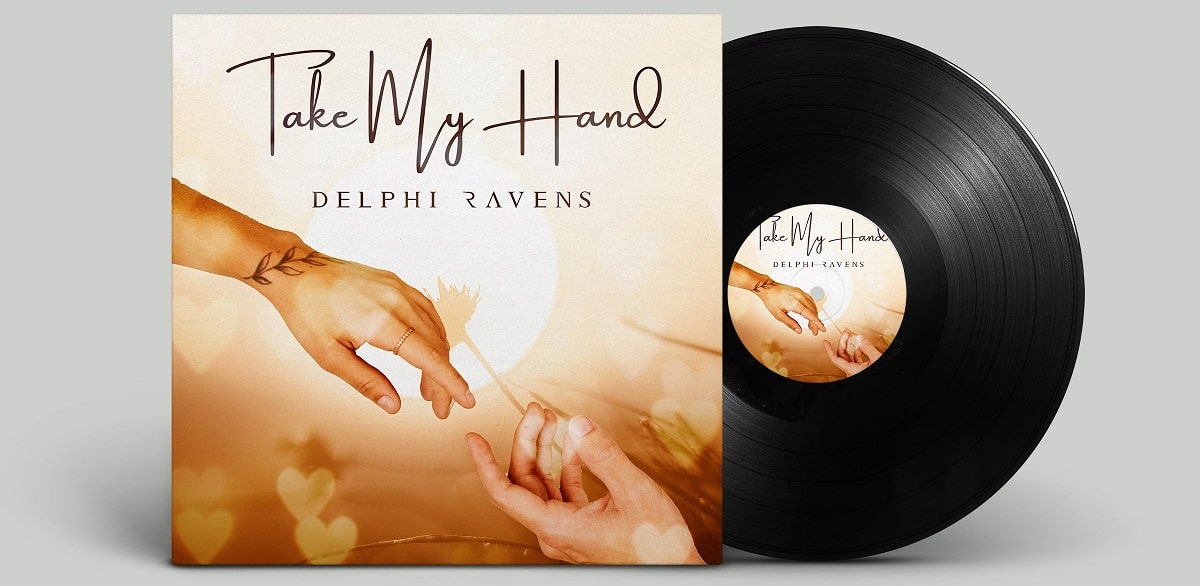 Taunjua: What are your plans for the future? Especially the short-term ones?
PapaB We plan to continue to write new music and stay creative. Get our first EP out early in 2023 which we are on track to do. And, release our first album in 2023 as well. A lot of small steps often equal a great journey!
Taunjua: Is there anything else you want to say to Museboat listeners?
PapaB Thank you so very much for listening to the many great artists on Museboat. The passion, talent, and love of music of these artists is truly incredible. You just don't hear the variety and quality of music on other stations. It's an honor to be considered among so many talented people. As I like to say, "it's not vanilla or chocolate but a blend of flavors".
Taunjua: Thank you for taking time out of your busy schedule for the interview, PapaB.
PapaB Thank you TJ for having me and to Museboat for everything you do for indie artists from around the world. I think I speak for many of the artists when I say it is appreciated more than you will ever know!
This interview was brought to you by
Taunjua aka TJ
host to the
TJ´s Muse Bridge show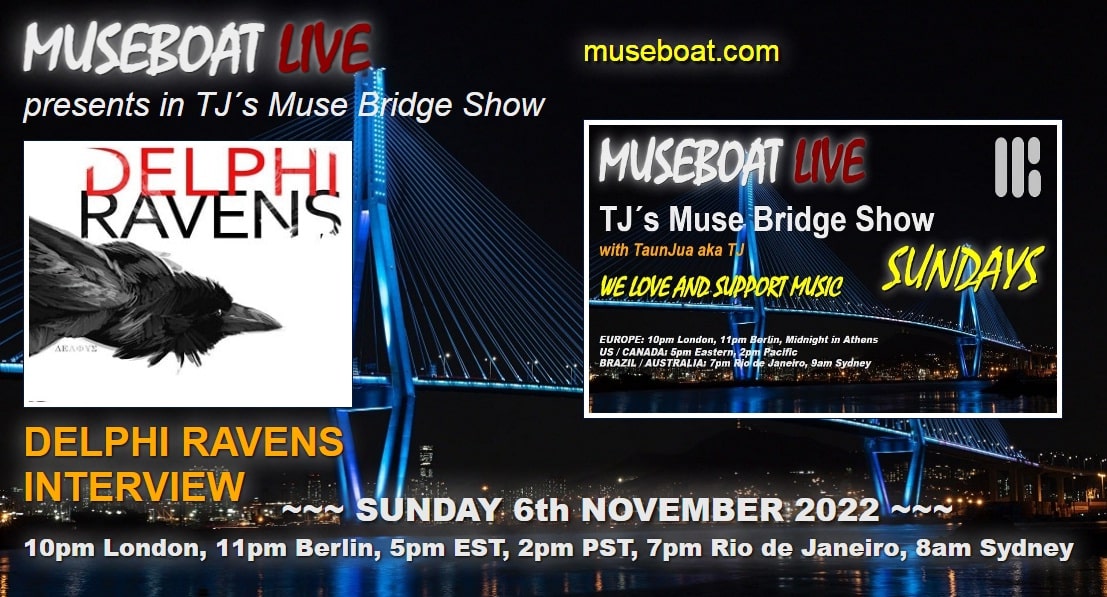 LISTEN TO THE INTERVIEW&nbsp&nbsp
---
WATCH MUSIC VIDEO: DELPHI RAVENS - Always in the Way
Links:
&nbsp&nbsp
DELPHI RAVENS on Museboat
|
DELPHI RAVENS Official Website
|
Facebook
|
Twitter
|
Music Shop
|
Spotify
|
YouTube Channel
|
More about Animal Souls
Andy Slovien
11/07/2020
ADELPHI RAVENS / Museboat
---