MUSEBOAT MUSIES AWARD 2023
Just like every year, we have prepared for you a month-long competition for the best musical acts on the Museboat channel in 2023.

As most of you already know, MMA is an annual competition based not only on the high quality of music that we have the honor of playing on our broadcast, but also on the requests of our listeners and on the feedback we received in our chatroom during the year.

The MMA program is as follows:

Start of the competition: Wednesday, November 1st
Round 1: November 8th
Round 2: November 15th
Round 3: November 22th
Round 4: November 29th
Round 5: December 6th

Voting for songs in all categories continues until December 7th 2023, Midnight London Time, so keep voting and get your favorite song to the top of our music chart. If you cannot find your favourite song here, find the list of ALL THE MOST POPULAR SONGS on Museboat Live channel.

The preliminary rounds results do not indicate the winner of any music category. They only signal the success of specific songs among our listeners, making it easier for us to decide on winners. Read more in the Award Terms Of Participation.

Museboat Musies Award Gala Show will take place on December 10th 2023.

If you want to become GENERAL SPONSOR of the Gala show, please, contact us via email. Find how we want to increase the support of artists in 2024.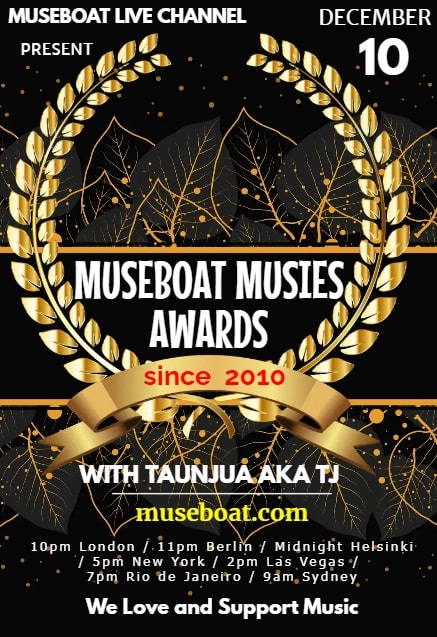 Join us in the chatroom EVERY WEDNESDAY, THURSDAY and SUNDAY to listen to all the nominated songs and vote in our poll to decide who will be the winner of the Museboat Musies Award in the following categories:


The Best Song Lyrics (in all musical genres),
The Best Song Production (in all musical genres),
The Best Pop Song (category for pop, rnb, soul, reggae and similar music styles),
The Best Rock Song (category for rock, metal, punk, trash metal and similar music styles),
The Best Alternative Song (category for rock, metal, punk and similar music styles),
The Best Country Song (category for country, folk, easy-listening and similar music styles) and finally
The Song Of The Year 2023 (in all musical genres).

The program will be filled with the best music we have on our channel, so there is something to look forward to! Visit Museboat Musies Award 2023 page to find out more.
---
We start every round of the Museboat Musies Award music show at 10pm London, 11pm Berlin, Midnight Helsinki, 5pm New York, 2pm Las Vegas, 4pm St. Louis, 3pm Phoenix, 7pm Rio de Janeiro and 9am Sydney

Find the show maintime in your region below.
Write the name of your city or the largest city in your present location in the table and find the exact maintime of our music show in your region.