HOW TO START TO LISTEN AND CHAT in G-ROOM
If you cannot see yellow "on air now info" in the header (top left side), click this link and refresh this website page.
Click play button in the player at the top left corner and wait a few seconds for radio stream.
DO NOT PAY for entering to any Museboat Chatroom!!!
We NEVER ask money to get there. If this by any chance happens, contact us at: museboatradio @ gmail.com (write email address without spaces) and let us know about it. Find Chatroom access information below. You will need Gmail address to get to the multimedia room.
ENTER THE CHATROOM
Museboat G-Room chatroom is powered by Google.
1. You will need Gmail account or another email service synchronized with it to get to the chatroom
2. If you do not have a Gmail account, you can create one exclusively for this purpose for free at Google Mail Signup Page
3. Send us your Gmail address before the show so we could approve your access to the chatroom
4. Enter the chatroom by click on chat icon below and leave a confirmation test message there
~ It's free and always will be

&nbsp&nbsp&nbsp&nbsp&nbsp&nbsp&nbsp&nbsp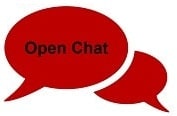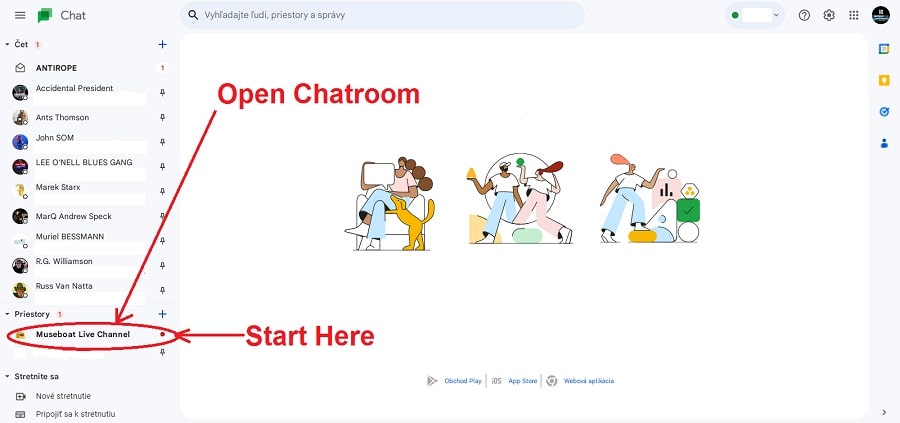 CHATROOM FEATURES You can add Emoticons/Smileys, GIFs, URL links, Pictures, Video and more to the room. Please introduce yourself after entering the chatroom. During the music show, we preferentially play music from artists, their fans or representatives. You can scroll up and down in the chatroom, if you missed some chatpost or info. It is allowed to insert links to social networks, official websites or music stores in the chat. Discussions on political, gender, religious, racist and violent topics are NOT allowed. Our goal is to support music regardless of religion, political beliefs, race or sexual orientation.